Wildlife Volunteer opportunities in Costa Rica
Volunteer wih us!
Change Lives-Volunteer and Help Wild Animals
Veterinary
Gain Hands-on Experience with Wild Animals - Apply for Our Veterinary Internship!
Biology
Discover Costa Rica's Biodiversity with Our Biology Program!
Wildlife Volunteer opportunities in Costa Rica is an experience that provides knowledge on the management of wild animals of the Neotropic. If you are looking to work with wild animals, in NATUWA, you can have the opportunity to learn about ethology and management of animal species such as jaguars (Panthera onca), sloths (Choloepus hoffmanni), macaws (Ara macao and Ara ambiguus), tapirs (Tapirus bairdii), anteaters (Tamandua mexicana) and more.
The custody of animals and the environment care that NATUWA develops requires people with a high standard of commitment and cooperation.
You can perform numerous and diverse functions to improve animals' life, so you are not required to have specific knowledge about animals. But willing to understand how to manage wildlife appropriately in a Wildlife Sanctuary.
All activities will always carry out under the company and the guidance of the organization's staff.
Learn how to manage wildlife while volunteering
The opportunity to volunteer in Costa Rica with wildlife, offered by NATUWA, does not promote the domestication of wild animals. Our primary goal is to raise awareness among people about NOT REMOVING organisms from the ecosystem to be used as pets. Besides, assist animals if they require it, without interfering with their natural behaviors and processes.
Therefore, if you intend to touch animals for fun, kiss them, hug them, or talk to them. So, we recommend you find another project. Otherwise, if you want to give your precious time and learn about these beautiful creatures helping the team to manage them, NATUWA is your project.
Wildlife Rescue Sanctuary
Wildlife volunteers who come to NATUWA join our team to help with a daily routine of caring for the animals. Volunteers actively participate in various tasks, including feeding monkeys, jaguars, tapirs, macaws, sloths, and many other species. Additionally, volunteers take part in the animal rehabilitation and rescue process.
They also carry out maintenance work in enclosures and conduct environmental enrichment activities to enhance the well-being of the animals permanently housed within the compartments.
All tasks are carried out under the guidance of veterinarians, biologists, the center director, and other professional NATUWA staff.
This volunteer opportunity provides valuable experience in managing wild animals while preventing accidents that could endanger both the animals and the caregivers, and contributes to our conservation efforts.
Supporting Local Families
As a volunteer, your role goes beyond assisting the animals; you are making a meaningful difference in the lives of families responsible for caring for these creatures. 
By participating in the maintenance and restoration of nature, you are directly helping families who rely on employment at the NATUWA Wild Animal Sanctuary. This essential source of livelihood is the only one of its kind in the community of Aranjuez, focusing on restoring nature and preserving wildlife.
When you invest in our Volunteer Program, you are not only contributing to the well-being of the animals but also supporting the livelihoods of the workers' families involved in this noble endeavor. 
We invite you to learn more about the symbiotic relationship between wildlife conservation and local human welfare during your time at the best wildlife animal sanctuary in Costa Rica, NATUWA. Your dedication and support make a significant difference, both for the wildlife and the people involved.
Volunteer with sloths in Costa Rica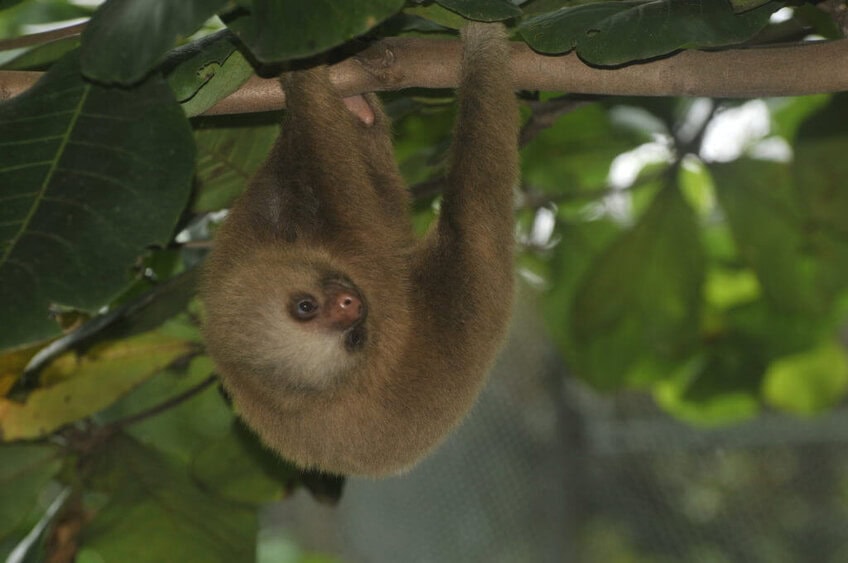 Characteristics of sloths
One of the most emblematic creatures of the tropics in Costa Rica is the sloths. These charismatic animals with dense hair live in the forest, immersed in the vegetation, sometimes they are confused with mounds of termites or imitate the environment very well, which makes it very difficult to spot them.
Learn more about our sloths here!  
In Costa Rica, there are two species of sloths; a kind is of daytime habits, the three-fingered sloth (Bradypus tridactylus) while the other, the two-fingered sloth (Choloepus hoffmanny) prefers to be active during the quiet of the night.
The roads go through the natural habitat of the sloths; often, they are trying to understand this big asphalt mace in the middle of their house, their forest. Many are injured, others orphaned due to different reasons (dog attacks, road raids, destruction of its habitat), where the human being is always responsible.
Costa rica animal rescue center

Volunteers play a vital role in the rehabilitation of these beautiful creatures, dedicating countless hours of work, both day and night, to ensure that sloths can be returned to their natural habitat. At NATUWA, volunteers gain comprehensive knowledge about the management and care of these charismatic sloths.
Caring of the baby sloths
Caring for animals is a challenging task that requires dedication and responsibility. However, the challenge becomes even greater when taking care of baby sloths who are unable to feed themselves and entirely dependent on human assistance to survive.
Tragically, many baby animals are removed from their ecosystem, often because people see them as "adorable" pets. The illegal pet trade takes a toll on Costa Rica's fauna, with parrots, monkeys, parakeets, and others being sold locally or taken out of the country.
Wildlife Volunteer opportunities in Costa Rica offer a unique chance to help these fragile creatures at rescue centers and sanctuaries, providing them with the care and support they need to thrive.
Wildlife Rescue Sanctuary
For these baby sloths and other orphaned animals, animal refuge centers become their only chance at life, offering them safety from violent deaths and the opportunity to return to life in the trees once again.
At NATUWA, with the dedication of our Volunteers and Interns, we prevent these animals from suffering and provide them with the chance to return to their natural habitat through the NATUWA Wildlife Rescue Sanctuary. By supporting our efforts, you contribute to the conservation and well-being of these incredible creatures.
This volunteer project is quite different from other Wildlife Santuaries around Costa Rica. We never have a shortage of work! And have over 500 animals that need daily care. If you are lack motivation or passion for animal care and conservation, this may not be the project for you (¡and that's ok!). Our daily schedule can be intense, but the work here is delightful!
The sanctuary is continuously operating to improve the lives of the jaguars, tapirs, sloths, macaws, and many more of Costa Rica´s wild animals. Volunteers will participate in activities such as:
Animal feeding.
Cleaning enclosures.
Assisting animals in case of emergency.
Participate in efforts to rehabilitate and release animals.
Planting trees.
Assisting in giving tours of the sanctuary.
Maintenance of animal enclosures and property.
Constructing organic structures for the animals.
Participate in the environmental enrichment of all types of animals.
Agricultural production (for volunteers and animals).

Cleaning under animal feeding stations.

Providing water to animals.


Washing enclosure floors.

Sanctuary maintenance.

Feeding baby animals.

Providing fresh-cut grass to our herbivores.

And anything else that needs to be done!
Volunteer daily schedule.
6:00am-8:00am – Morning feeding of animals with supervision.
8:00am-8:15am – Breakfast!
8:15am-10:30am – Daily tasks (see list below)
10:45am-12:00md – Daily tasks (see list below)
12:00md-1:00pm – Lunch, WiFi, and nap time!
1:00pm-3:00pm -Afternoon feeding of animals with supervision.
After the afternoon feeding, volunteers are free to do whatever they would like for the rest of the day! Dinner is ready by 6:00pm.
Wildlife Volunteer opportunities in Costa Rica
Animal enclosure maintenance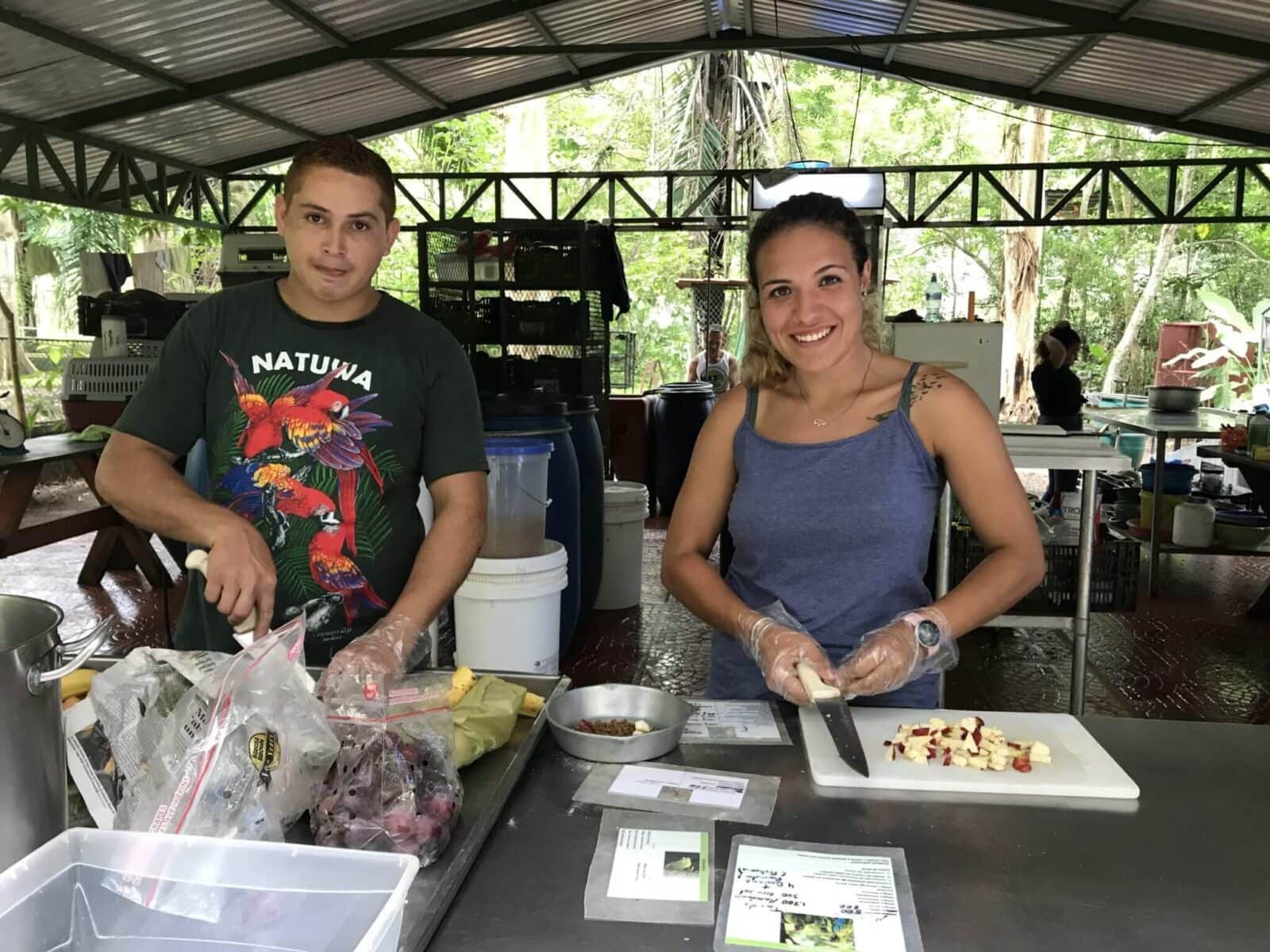 Environmental enrichment for animals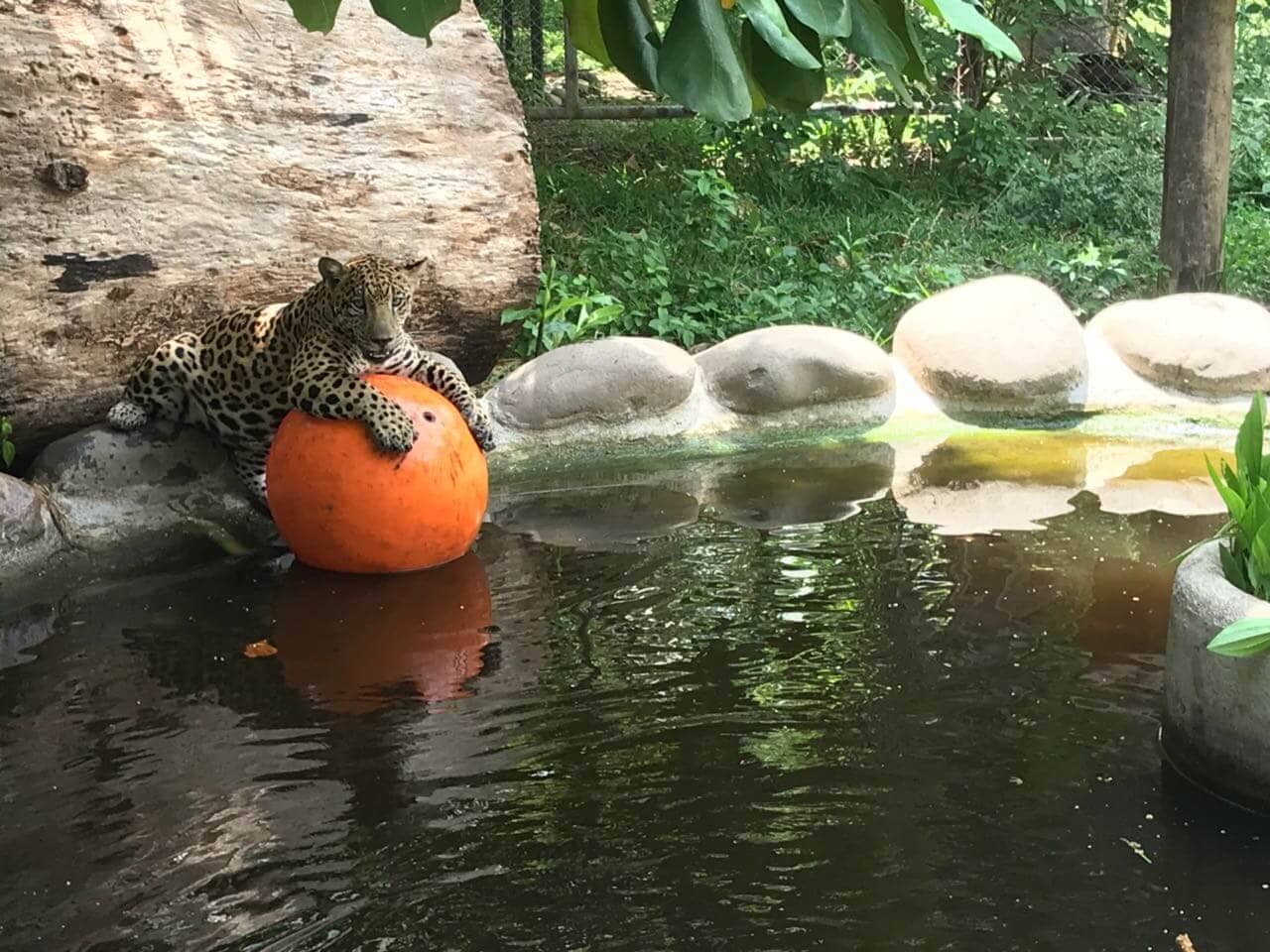 Accommodation Types: Dorm Room
Currently, volunteer housing is in two separate buildings. One building is a typical Costa Rica country style house with one room, including bunk beds, three fans, storage space, and windows. Only for long-term volunteers (4 weeks or more).
The second building is a modified shipping container with three rooms. Each room of the container includes two bunk beds, a fan, and storage space for personal items for four people maximum. It is advised for volunteers to bring their mosquito nets. Volunteers must keep their areas free of plastic litter and respect the property of others.
The location of the bathrooms and showers are in a separate building adjacent out of the rooms. No hot water is available for the showers.
There is an area to do the laundry by using a machine and for drying on clotheslines.
WiFi is currently available in volunteer housing.
Loundry service
There is a sink for washing clothes, however we offer laundry service at very low cost of 1 kilogram = $3.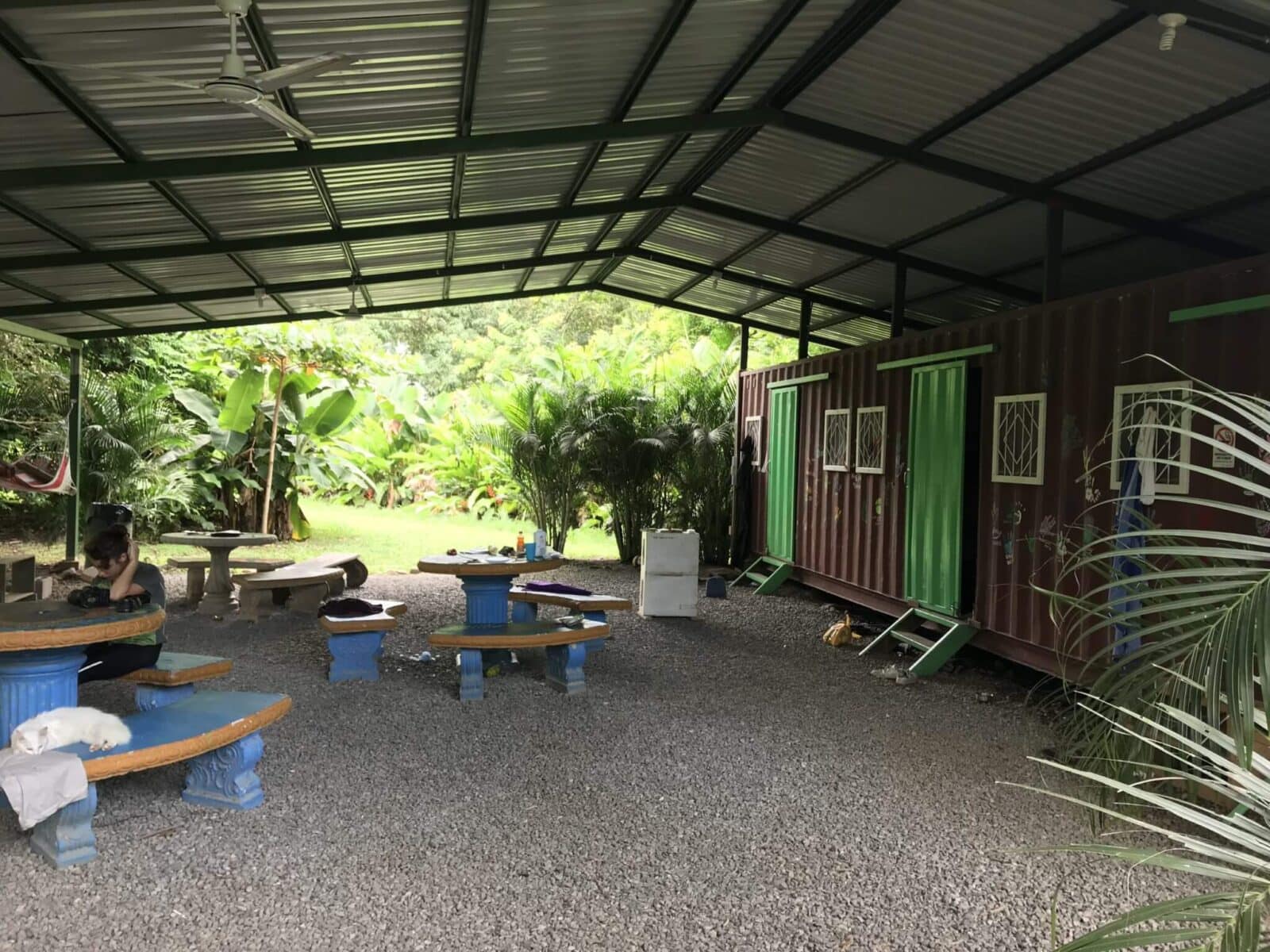 How to get to NATUWA from the airport?
Participants of the Natuwa Volunteer Program are required to be transferred from the Airport directly to NATUWA by the transportation we provide. NATUWA will not accept anyone coming by public bus or any other transportation service. The cost is $120 USD.
If you are already in Costa Rica, you can coordinate your admission to our volunteer program at this cell phone number +506 86444666.
WiFi access (Only in the reception and the volunteer facilities).
Accommodation type: Dorm Room.
Three meals are provided for volunteers. Vegetarian options will be provided upon request.
Everyday training in wildlife management.
Information on travel within Costa Rica. And support in reservations and transfer.
Food & Drink Details
The meals are typical dishes of Costa Rica. Almost every meal includes rice, beans, or salad. Juice or coffee is offered for every meal. It is very important that you inform us if you have any special diets or food allergies.
Example Breakfast Meals: (8:00am)
1. "Gallo pinto" with: egg, plantain, or sausage.
2. Cereal.
3. Fruits (watermelon, banana, and papaya).
Example Lunch Meals: (12:00md)
1. Rice and beans with a meat.
2. Rice and beans with spaghetti.
3. Meat and vegetable soup with rice.
Example Dinner Meals: (6:00pm to 7:20pm)
1. Rice and beans with a meat.
2. Hamburger.
3. Cold cut sandwich.
It is essential that before making the decision to be part of our wildlife management program, you agree to follow the following rules.

No smoking inside or outside of NATUWA´s property.
In order not to tame the animals, do not talk to them.
Do not feed the animals (outside feeding time).
When taking pictures, the use of flash is prohibited.
The use of any type of ilegal drug is prohibited.
Alcoholic beverages are not allowed.
Be respectful of the staff of the sanctuary (sexual harassment, racism, homophobia or xenophobia will not be tolerated).
Do not allow strangers (outsiders) to enter the sanctuary.
People working in shorts are not allowed.
Follow the safety rules according to the activity (gloves, helmet, eyeglasses, boots, pants).
Do not carry any electronic device during working time (Cell phones and camaras).
Insect repellents containing DEET are strictly prohibited.
We greatly appreciate your collaboration. However, we emphasize reminding you that the Sanctuary's main objective is to ensure animal welfare for all species of wildlife that we house (See the list of animals). Therefore, our rules promote the interest of the species in NATUWA and the people who care for them. For this reason, it is essential that you understand the rules before deciding to be part of our volunteer program in Costa Rica with wild animals.
We have a vital natural process to provide animals with the best care and welfare. We invite you to be part of the process. However, not respecting the rules is interfering with our objective. If you intend to touch or caress animals, our program cannot carry out this practice since it puts your health and the animals we shelter at risk.
It is essential to clarify that you will be part of a team of wildlife management specialists. Therefore, you will constantly interact with wild animals respectfully and ethically to create a benefit for the animal under the supervision of specialists.
What do you have to bring with you?
 *Mandatory
Rubber boots.
*Natural repellent (without DEET).
Sunscreen.
Mosquito net.
*Long pants (working pants).
Clothing that dries quickly.
Hat.
Afterbite.
Shower sandals.
Quick drying towel.
Beach items.
Many pairs of socks.
Reusable water bottle.
Topical medicine for allergies.
Allergy pills.
Optional items:
Thin bed sheets (one pair is provided).
Bandana.
Long sleeves.
Rain jacket.
Work gloves.
Books.
Donations (Amazon wish list)
There are a few items that would help the animals that are difficult to purchase in Costa Rica. These items are on the list of our Amazon wish-list. Items most accessible to carry in luggage are Harrison's Organic Juvenile Bird Formula and the Meyenburg's goat milk powder. Volunteers are encouraged to bring these items to help the animals!
Best season to be a Wildlife volunteer
Costa Rica has two seasons, the wet season and the dry season. The wet season is from May to November, which brings rain almost every day, but at the same time highlights the lush green landscape of Costa Rica. During these months, the weather is cooler, making it easier to work in.
The dry season is from November to May, during this time there is a lot of sunlight and a beutifull blue skye. The landscape is covered with fruits, such as mangos and beautiful flowers multicolor!. NATUWA is located in the dry forest where it is very hot, especially during the dry season.
Then, you decide on what season of the year you will do your wildlife volunteer work in Costa Rica.
How to travel to NATUWA ?
Public busses run everyday (except Sunday) to and from the sanctuary for the volunteers. At 6:00 am the public bus arrives in front of the sanctuary to transport people to the town of Puntarenas where there is a bus station with busses to travel around Costa Rica. The bus leaves from Puntarenas to Aranjuez at 11:30 am, arriving to the sanctuary around 1:00 pm. The price of the public bus is about 1 mil colones (equal to about $2).
A taxi service can be requested to bring volunteers to the sanctuary. From Puntarenas to the sanctuary, volunteers can expect to pay about $50. From  the Juan Santamaria Airport to NATUWA the cost is $120.
Places to visit near NATUWA and Free-time activities
Every week, volunteers will receive a day off to be able to relax and explore surrounding areas. The staff of the sanctuary can help organize places to visit. Options include the beach, local river, Puntarenas, Monteverde (two days), Volcano Arenal and others.
A taxi service can be requested to bring volunteers to the sanctuary. From Puntarenas to the sanctuary, volunteers can expect to pay about $50 for a taxi, and about $120 from the airport (Alajuela) to NATUWA.
Each wildlife volunteer has a huge impact on the lives of the animals. Because, with your help  We can guarantee quality of life to the animals through activities of environmental enrichment, proper feeding, surveillance and general care. Together, we can improve the lives of animals in captivity and focus our attention on our rehabilitation efforts.

NATUWA is a wildlife volunteering opportunity where you can help and learn about how to conserve amazing creatures and their importance to the ecosystem.
Why you should volunteer at NATUWA?
At NATUWA, we are all animal lovers. And we know for a fact that many wild animals require our help. But, without interfering with the interactions they have with their natural environment, their ecology. However, being an animal lover comes with a lot of responsibility and comminment. It is our responsibility to direct our love in a positive manner. Loving an animal does not mean hugging, touching, or showing "affection" to an animal, but rather having scientific knowledge of how to care for an animal in a way that will allow it to succeed in nature. 
Come to NATUWA and learn with us to be a real Wildlife Volunteer. In few words, to learn to coexist in harmony with the environment that surrounds us.
Volunteering at NATUWA is a wonderful and unique experience that is perfect for people of all ages and all backgrounds. Volunteers will be able to positively impact the animals of the sanctuary, learn and practice Spanish, meet new people from all over the world and experience a different culture.
Interested in the Wildlife Volunteer opportunities in Costa Rica?
Please fill out the contact form.
Your confidential information will be analyzed to accept you into our program. We will be in contact as soon as possible. ¡Many thanks!
Price of our wildlife volunteer program
Ask how to get a discount