NATUWA,  Macaw Conservation Sanctuary carries a captive breeding program with Costa Ricas macaws. Also, the Sanctuary rescues, rehabilitate and release the macaws back to the wild. Many birds are confiscated by the Ministry of Environment and Energy (MINAE). The Animal Sanctuary is possible with the support of Volunteer (Visit our volunteer program) , Education, Ecotourism programs and comunities orround the animal sanctuary.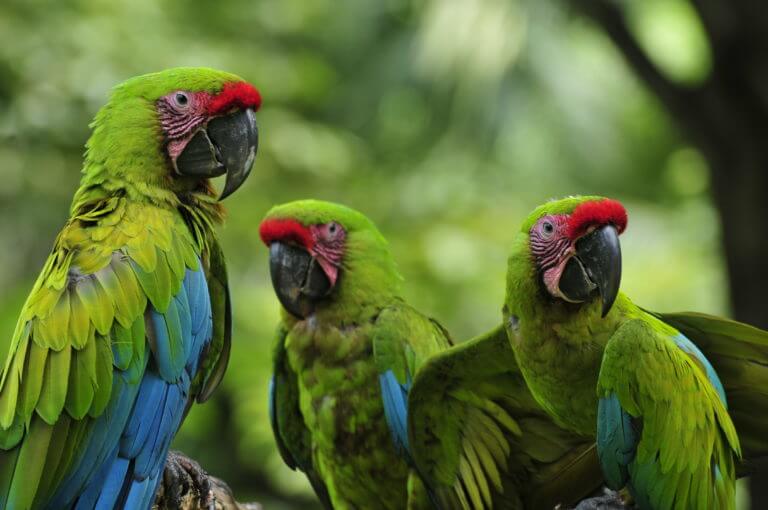 The conservation of Costa Rica's macaws is important to keep intact the functions performed by these wonderful red macaws; thus, keeping the forest healthy. In addition, these biological gems, are a natural resource of the following generations; that is why we have to preserve such beautiful birds.
The Reproduction Program of the Scarlet Macaw (Ara macao) and Great Green Macaw (Ara ambiguus); provides opportunities for these parrots to learn the survival skills. Then, the next step is the liberation in their natural environments. These skills, are only learned through limited interaction with humans. Something that many of the confiscated macaws did not have prior; the macaws that are born in captibity learned these important skills from their parents and other macaws at the project. In that way, we get completely wild macaws to let them go.
Research and environmental eduaction
The Macaw Sanctuary NATUWA participates in the education of university students. Such as, the National Technical University (UTN), University of Distance Education (UNED), National University (UNA). Through collaboration with their research towards their graduation theses. Also, amongst the theses completed are the following: Generation of Protocol for the Prevention of Parasites, Environmental Enrichment Techniques for Macaws, Environmental Education Program, Analysis & Correction of the Diets of the Santuary's Animals, etc.
Native trees like jabillo, guayacan, surá, jobos have been developed on the Sanctuary's lands. As result, they generate a refuge for wildlife of the area and to the animals that can not be released. This vegetation provides a natural and beautiful, scenic landscape to the community.
Find us in Google maps !!